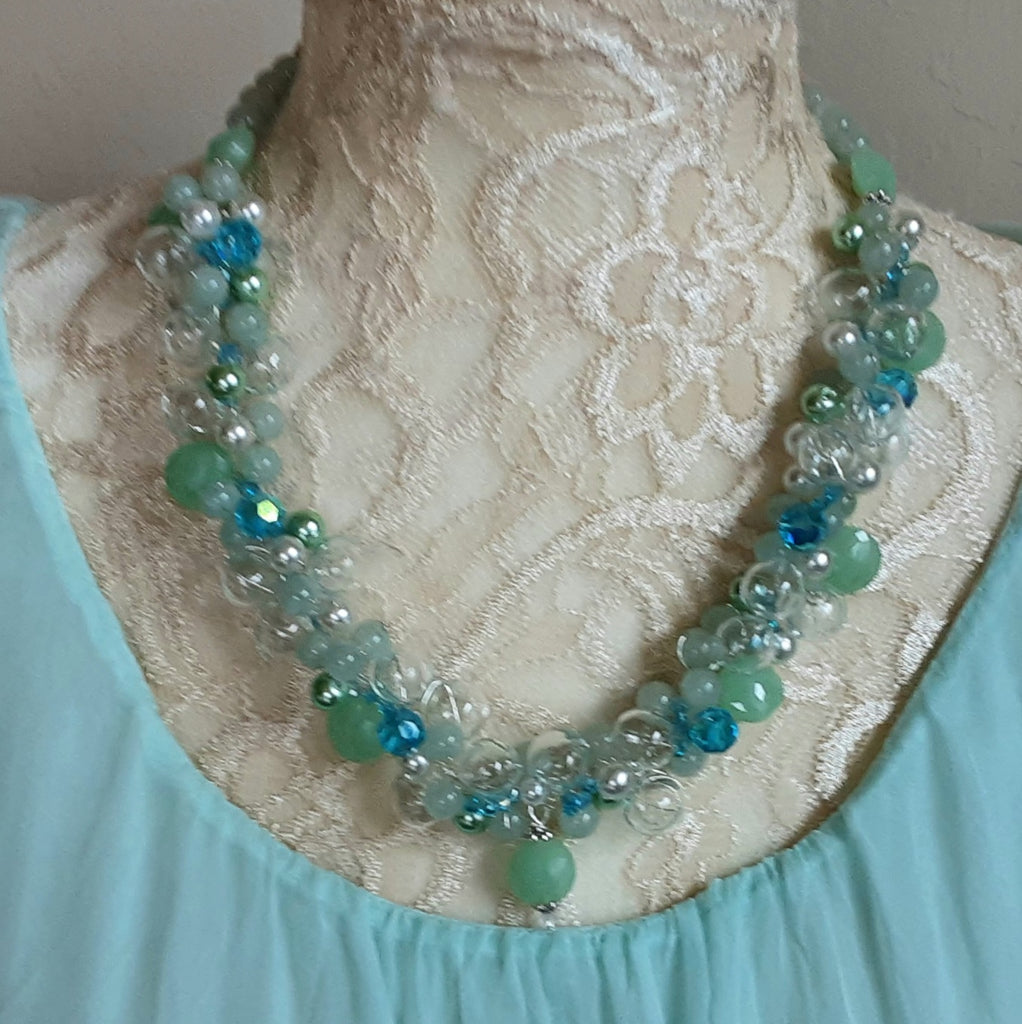 Glass Bubble & Pearl Twisted Wire Statement Necklace - Unique Colorful Cluster Collar - Gift for Her
---
Seafoam Glass Bubble Beads with Pearls & Crystals replace the classic pearls in this Multi-strand Designer Inspired Statement Party Collar Necklace.

Are you a More is More Kind of Person when it comes to Statement Jewelry? Do you adore getting tons of compliments on your fashion sense? Then you must wear a Beautiful Unique OOAK Twisted Sister Statement Necklace! This would make an over the top gift for that special someone.

*** Hand Blown Glass Necklace
*** Measures 18, 20 or 22"s. You choose! Plus 4" Silver plated extender chain.
*** Twisted Wire
*** Care Instructions Included
*** Free US Shipping and Matching Earrings
*** Ships in 1 Day
*** Gift Wrapping Available

Clear Glass Beads and Huge Swarovski Crystals and Pearls are uniquely twisted to make this amazing necklace!!!

Piece measures 18, 20 or 22"s in length (you choose) and has a lovely rhinestone magnetic clasp for easy attachment. Get ready for compliments!!!
What is The Twisted Sister? This is my original wire technique that I invented and have patented. Every Twisted Sister is a One of Kind Statement piece. Each necklace is painstakingly crafted using well over 125 beads per necklace. Enjoy this labor of love.
Free US Shipping!
Are you ready for tons of Compliments? Purchase this beauty NOW!
If you would like to join The Twisted Sister's and receive my newsletter which is a fun romp on Jewelry, Fashion and Lots of Giggles click HERE. It is so fun!
---
Share this Product
---
More from this collection
Liquid error (layout/theme line 376): Could not find asset snippets/spurit_uev-theme-snippet.liquid